Our Story;
In the early 90's Bryan had a hobby fixing and repairing computers.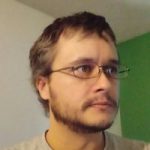 Over time this hobby grew as more and more friends recommended friends and the hobby started turning into a business.
A name was finally chosen in 2001 and a domain, ConstantReality.com, was purchased to represent the business to the public.
The name ConstantReality.com represents our drive to be Constant in our Code of Ethics in this Reality we share.
All employees and our clients must follow and maintain a Code of Ethics in our interactions with others;
All work performed, services provided and attitude during work hours, must be made in an ethical manner so that every individual merits the confidence of the public, and you, the customer.
Everyone shall treat everyone else with respect, kindness, and patience.
With this in mind, If our technicians feel threatened in any way, They may leave your premises, in a polite manner, for any reason.
The safety of our employees and you and your employees is a primary concern when doing on site field work.
All technicians and employees will;
Avoid misrepresenting their skills or experience.
Abide by all federal, state, and local laws.
Safeguard any intellectual property rights, confidential information, and documents to the extent of the law.
Only use, install, and support fully licensed software. We will not help you install or repair hacked, nulled, or otherwise illegal software.
Complete all services professionally.
Complete all services as fast and as precise as possible.
Protect the safety, health, and welfare of the public.
Encourage and uphold colleagues and co-workers to act in accordance with this code.


In all circumstances, use good judgment, and be excellent to each other.
ConstantReality.com offers equal opportunity for all, regardless of race, religion, color, sex, creed, age, marital status, sexual orientation, national origin, disability, or otherwise.